Offering expertise. Reaching targets.
What started life as a "three-man operation" in 1998, is today – with an SME character – the only owner-run family company in our branch in Germany. With the entry into the company of Simon und Julian Weis, the two sons of owner Gerald Weis, ips has set the course for continuity and the future.
We combine our many years of experience, German machine construction and the personal competence of each individual employee with creative engineering, modern technology and a special level of service, to produce tomorrow's innovative system solutions. Backed up by the entire ips team.
Furthermore, the longstanding involvement of a private investor gives us additional financial latitude to consistently pursue a growth course.
Every plant that leaves our production hall is a one-off.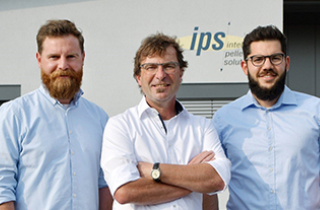 Julian Weis, Managing Director, Gerald Weis, owner and Managing Director, Simon Weis, Managing Director