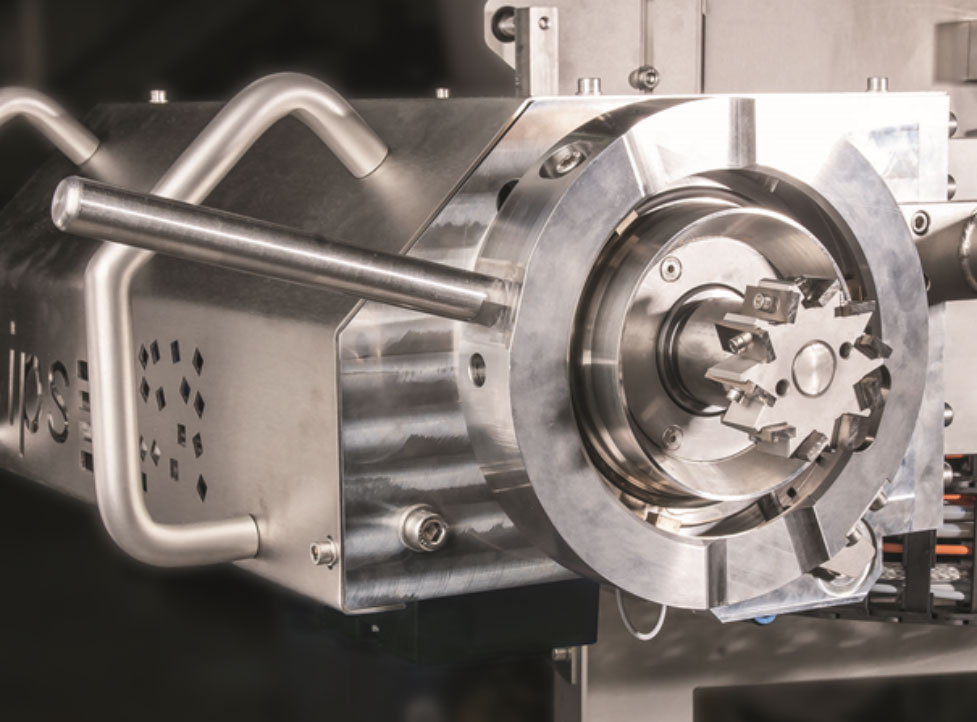 Underwater pelletizing system type ips-UWG S
Niedernberg, 23.05.2019. In addition to strand pelletizing, ips Intelligent Pelletizing Solutions GmbH & Co. KG has also established a solid standing in the market with underwater pelletizing systems. Since the launch of this type of system in 2016, ips has already sold a number of ips-UWG 75 S underwater pelletizing systems. Now, towards the middle of the current year, the first ips-UWG 120 S system for throughputs of up to 2,500 kg per hour is to be commissioned at the premises of an extrusion profile producer in Italy.
The company manufactures most of the materials required for its production internally. Among other things, these include the appropriate compound for the production of pipework systems. In future, this will be manufactured using an unterwater pelletizing system ips-UWG 120 S.
The complete system is modular, comprising a melt pump, diverter valve, die plate with pelletizing unit, process water system and pellet dryer. For the planned application, it achieves a throughput of approx. 1,500 – 2,000 kg per hour. In particular, it is to be used in the production of various polyolefines consisting of up to 60 percent barium sulphate or calcium stearate.
The choice of ips was based on an overall package that was just right. It extends from convincing technology to very good ergonomic handling, cleaning and servicing of the system and on to service and good availability. Coupling these factors with great flexibility in the engineering and the unrestricted incorporation of customer wishes, ips has designed a bespoke system which exactly meets the customer's requirements.
To achieve this, extensive experimentation and test runs were conducted in the ips Technical Centre.
"We are delighted that, with the products and services we offer, we are able to hold our own against the established suppliers in the area of underwater pelletizing systems," says Simon Weis, Product Manager Underwater Pelletizing System at ips Intelligent Pelletizing Solutions GmbH & Co KG. In addition to the system itself, the value for money, the service and the speed were crucial aspects in the decision to purchase the ips system.